Pinkie Sunshine is a character residing in the Randomverse.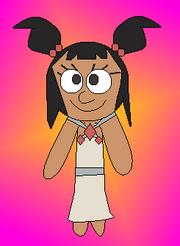 Pinkie is an overzealous fan who likes to attempt to get endorsement from the other Randomverse characters. She has three friends, one of which is in the band she is in. She used to pursue the other characters for love, but that stopped once she got raped and became pregnant (despite being a teenage girl). She keeps the rape incident a secret for obvious reasons.
pink
Katie
Sadie
Dick Blackbird
Harry Colon
Tom Norbeck
love
music
Pinkie's hairstyle somewhat resembles Katie and Sadie's hairstyles.
Pinkie is now the trainer of Jeong-Suk. Katie calmed down Jeong-Suk during her random Pokemon journey and traded her to Pinkie at the end.
Community content is available under
CC-BY-SA
unless otherwise noted.